The upcoming Blockchain Innovation and Investment Summit (BII Summit) will feature speakers and sponsors representing Blockchain companies and start-ups such as Ultroneum from Malaysia, Unibright from Germany, Evareium from the UAE, DateCoin from Russia, Shopin from USAand a host of others.
As Blockchain technology gains momentum across the globe, over 1200 Fintech professionals and Blockchain enthusiasts from 22 countries are set to attend BII Summit, the region's largest event of its kind, scheduled to take place at the Ritz-Carlton Dubai on 19 March, 2018.
The event will focus on case study based presentations in ongoing and upcoming innovative Blockchain projects and provide potential partnership opportunities for summit participants.
The diverse speaker line-up represents renowned Initial Coin Offering (ICO) start-ups, major tech companies, government authorities and institutional investment firms. Simon Cocking, Chief Editor of Irish Tech News, Sally Eaves, CEO and Thought Leader in Emergent Tech, Nikita Anufriev, Founder and CEO at DateCoin, Dana Farbo, COO and Investor at Augmate and Stefan Hickmott, Founder and CEO at Evareium are all part of the powerhouse list of speakers.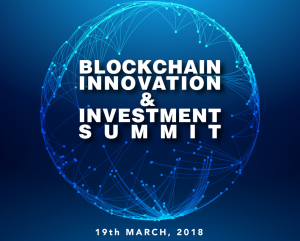 n the domestic front, the Dubai Blockchain Strategy was launched by His Highness Sheikh Hamdan, and was a result of a collaboration between the Smart Dubai Office and the Dubai Future Foundation to continually explore and evaluate the latest technology innovations that demonstrate an opportunity to deliver more seamless, safe, efficient, and impactful city experiences. The Dubai Government has now implemented the Dubai Blockchain Strategy 2020, an initiative which is deemed to usher in economic opportunity for all sectors in the city.
Registrations are closing soon! Find out more at the official BII Summit website www.biisummit.com.